Overview:
WebConnect gives your browser-based access to making calls, receiving calls, chat and SMS features, voicemail, call park, answering rules and more. This feature provides companies with the flexibility to use their PC's/Laptops as their phones instead of a bulky desk phone.
Using this feature along with our mobile app, truly gives your company the freedom to work from anywhere without the fear of missing out.
Main Menu
This is the heart of where you can do anything at a glance.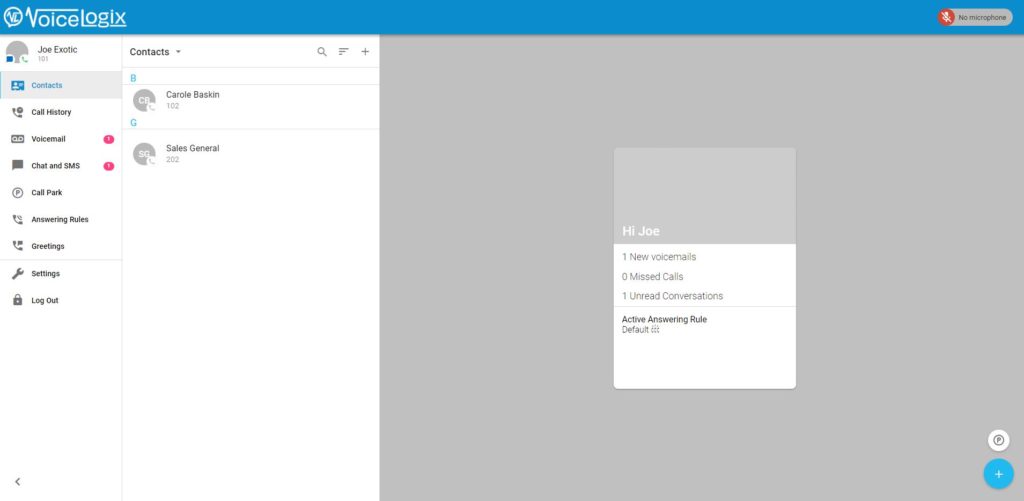 Making a Call
To make a call simply click on the blue + sign at the bottom right of the screen, Click the dial pad.

Call Park
This feature allows you to drag your current call into one of the empty call park spots to put who you are speaking with on hold or allow someone else to take the call.
Chat and SMS
To start a new chat or send an SMS click on the blue + sign in the bottom right, select the pencil icon (New Conversation), when the window pops up either type in the phone number or contact you wish to send to message to.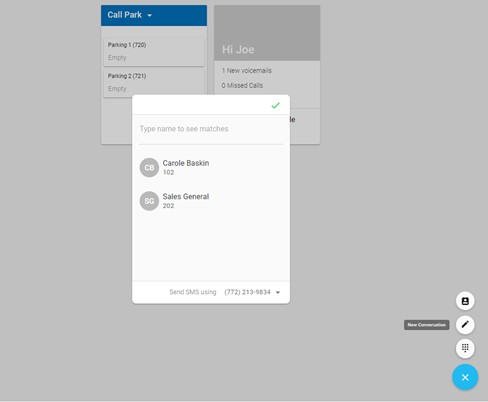 Additional Features
Beyond the basics of making a call, viewing call history, access to voicemail, chat and SMS, you are able to enable different answering rules, add a greeting and utilize basic settings.
Answering Rules: You can adjust if you company has a "On break" rule that would forward your calls or remove you from call queues while away from your computer, holiday hours and also days when you are out of the office.
Greetings: Allows you to record a quick greeting to activate on your account for example, "Hello you have reached Sam Smith, I will be out of the office from Jan. 1 – Jan, 15th due to a family emergency, if you need immediate assistance please contact Julie Samuels at (844) 111-1111. Thank you."
Settings: In the settings section you can adjust your audio output, microphone, ringtone, call waiting tone and see your caller ID.